5 Fun Fall Things to do This Weekend
There's no shortage of fun activities to do this weekend. We are on the heels of Halloween, don't miss out on any of these events!
1. Pumpkin Nights
Discover 10-foot Jack O 'Lanterns as walk along Austin's best pumpkin light show. Featuring the world's largest pumpkin guitar, a flying 40-foot handmade dragon, a life-size pumpkin pirate ship, and so many surprises! More than 3,000 hand-carved real and synthetic pumpkins.
JOURDAN-BACHMAN PIONEER FARMS - 10621 PIONEER FARMS DRIVE AUSTIN, TEXAS, 78754
Sunday, October 3rd 6:00 PM thru Sunday, October 31st 10:00 PM
2. Oktoberfest
An Oktoberfest celebration will occur throughout the weekend of October 22-24, featuring live music, seasonal Oktoberfest beers in oversized German beer mugs, specialty foods, and fun activities like a yodeling contest to celebrate the Bavarian sense of gemütlichkeit, or cordiality.
Enjoy live music in the beer garden from Phil Hurley | 7-9 PM
DREAMLAND DRIPPING SPRINGS | 2770 WEST DRIPPING SPRINGS 290
Friday, October 22nd thru October 24th • 11am to 7pm
Need a Halloween Playlist?
Check out our curated Halloween playlist from local artists and more
3. House of Torment
Austin's Premium Haunted House - Masks + proof of vaccination/negative COVID-19 test required upon entry
2632 RIDGEPOINT DR, AUSTIN, TX 78754
Sunday 6-10 PM
Monday - Thursday 7:30 to 10:30 PM
Friday 7PM to Midnight
Saturday 6PM to Midnight
WARNING! Event may be too intense for children under 12 - read the rules on their website.
4. Phantomfest
Phantom Fest is a fun & festive community-building celebration of all things spooky & Halloween, with the goal this year to raise $10,000 for Austin Pets Alive!
This weekends featured event: THE LOST BOYS AT EASY TIGER
Easy Tiger and Phantom Fest feature interactive props, a selfie station inspired by the incredible design of Santa Clara, vampire (and fictional murder capitol) of the world, and a special sax performance by Billie Buck of Sailor Poon to honor one of the most INCREDIBLE music performances ever on-screen. A fun market to get you geared up for fall and Halloween, and chances to support Phantom Fest's goal to raise $10,000 for Austin Pets Alive! and you've got the LOST BOYS Movie Party & Market.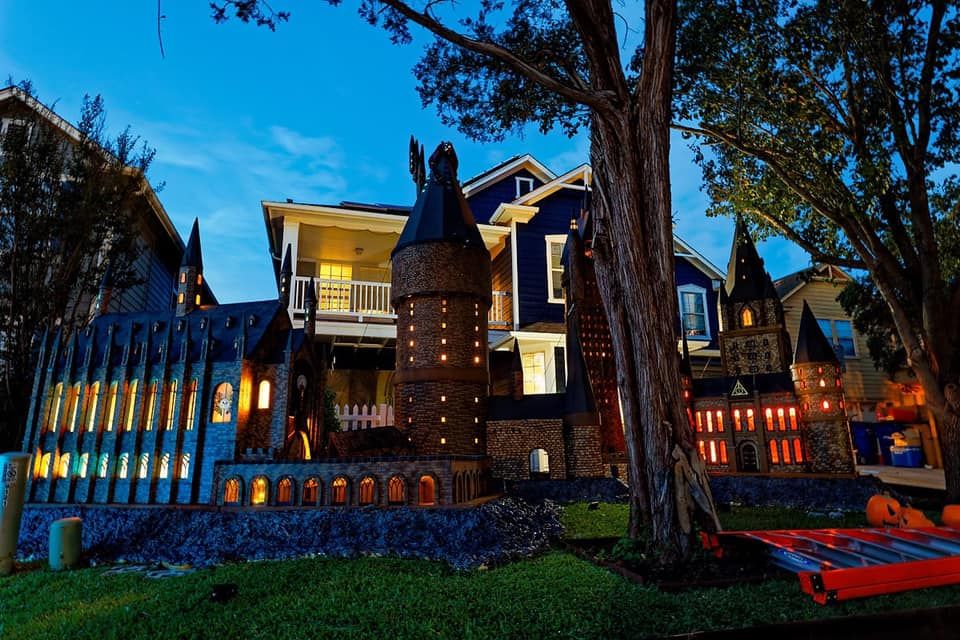 5. Harry Potter's Hogwart Pop Up Castle
Diagon Alley Austin Halloween House is a South Austin family who lights up their home every year for neighbors and the community. A one-of-a-kind drive through experience featuring floating pumpkins, The Great Hall, The Astronomy Tower, The Marble Staircase Tower, and the new Bell Tower ("Cargill Hall"). . On most weekends the new "Hogwarts Castle Window" will come to life with different moving scenes...floating pumpkins that move, a roaring fire in the Gryffindor Common Room and other scenes.

The Family donates all of the Venmo proceeds

All money collected will be split between Foster Angels of Central Texas, Variety Texas, and ZACH Theatre. All have been hit hard by the pandemic and are worthy of our support. Please consider donating. There are currently two ways to donate:
You can Venmo: @DiagonAlleyAtx
See Map Below for Address 👇
Weekdays dark to 8:30 PM
Weekends lights out at 9: 30 PM