5 Summer Film Events You Don't Wanna Miss
"Movies touch our hearts and awaken our vision, and change the way we see things. They take us to other places, they open doors and minds. Movies are the memories of our life time, we need to keep them alive." ― Martin Scorsese
Do512 & Alamo Drafthouse Present their FREE annual outdoor summer series where Live Music & Movies meet. Enjoy cinema classics on the the inflatable outdoor screen with the backdrop of Downtown Austin.
When: JUL 19th & 13th & AUG 14th | 6:00 PM | Music at 7:30 PM | Movie Starts at Dark
Where: Long Center - 701 W. Riverside Dr., Austin, TX 78704
Admission: FREE
What CAN I bring?
Personal water bottles
Folding Chairs
Blankets
Your Kids
Hot Date
Pets leased on Lawn ONLY
What CAN'T I bring?
Alcoholic beverages of any type
Coolers of any kind
Glass bottles
Illegal substances
Weapons
Boom Boxes or Amplified Sound
Marketing leaflets or Other Promotional Items
Don't forget: Bring your own shirt for live screen printing at the Do512 Tent! Ink will be in black so bring a light colored shirt. Blank shirts will also be available for purchase
JAWS ON THE WATER is back! Enjoy this summer classic on beautiful Lake Travis.
When: JUN 22 & 29th, JUL 13, 20, & 27 & AUG 3,10, & 17 | 6:00 PM | Movies begin after Sunset
Where: Volente Beach - 16107 Farm to Market Rd 2769, Leander, TX 78641
Admission: $45 per person | Passes may be available at door until sold out. (NO Cash - Debit/credit ONLY)
What CAN I bring:
Debit/Credit Cards
Bathing Suits
Shark Repellent Spray
Bug Spray
What CAN'T I bring :
Drugs
Weapons
Outside Food and Drink
Pets
Rain Policy: Event will occur Rain or Shine. In the event of serious storms that force event cancellation, options will be given to refund the ticket or attend another night.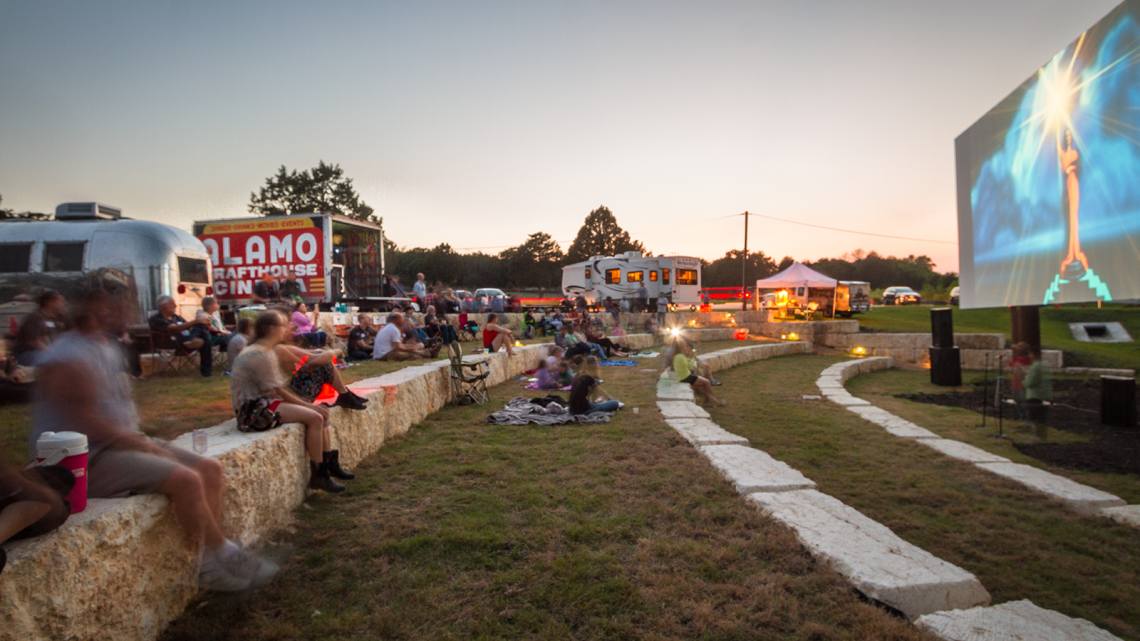 The Community Cinema & Amphitheater is a place where film, family and fun come together at Austin's coolest outdoor venue. Nestled into the Community First! Village countryside, the outdoor cinema and amphitheater has room for hundreds to catch a show or book an event under the stars.
WHEN: June 21, 22, & 28th | 8:00 pm
Where: The Community Cinema at Community First! Village - 9301 Hog Eye Rd. Austin, TX 78724
Admission: The event is free, however a $5 donation would be highly appreciated. Donations can be made electronically when RSVPing to this event or via donation bucket at the venue.
Things to Know:
We encourage you to support our Community Grille rather than bringing outside food and drinks.
Dress in weather-appropriate clothing and don't forget your flashlights and bug spray. We also recommend wearing closed-toe shoes.
Dogs on leashes are welcome at Community Cinema movie nights!
Movies begin at full dark and/or ~an hour after event start time, depending on the season.
Private Events: Interested in renting the Community Cinema amphitheater for a private event? Email [email protected].
Paramount Summer Classic Film Series
Beat the heat this summer and indulge in the Paramount's Classic Cinema favorites, over 100 screenings this summer.
When: Showings thru August 31st. Full Schedule here
Where: The Paramount Theatre - 713 Congress Ave, Austin, TX 78701
Admission & Ticket Information
Online Advance Admission: $12 (includes a $1 preservation fee)
Regular Admission: $12 (available at Paramount Box Office on day of show and includes a $1 preservation fee)
Film Fan Admission: $8 (See more details.)
FLIX-TIX: $60 ($50 for Film Fan members) The Best Summer Movie Bargain! FLIX-TIX gives you 10 admissions, good in any combination to the Summer Classic Film Series. Purchase at the box office or purchase now.
Parking
$5 Thanks to our friends at 600 Congress, affordable & secure parking is available for film-goers.
Double Features: When two movies that are screening in the same theatre are grouped under the same thematic heading, one ticket is good for both features when viewed back-to-back on the same day (except as noted).
Summer Kids Camp at Alamo Drafthouse
Kids Camp is an affordable way for families to watch great films together during most holiday breaks. Choose your own ticket price - $1-$3-$5 and buy your tickets online to reserve your seats in advance.
When: Every week during daytime hours. Click here for local listings
Where: Alamo Drafthouse locations vary, click here to see which location is showing your favorite movie.
Admission: $1, $3 or $5 -- your choice! 100% of ticket sales are donated to local nonprofits working to make our community a better place.
Please note: Most Kids Camp screenings are ages 3 and up, but some locations are All Ages - please check drafthouse.com for local policies. Regular no talking/texting policies apply and noisy families may be asked to leave.