Austin City Limits 2023: Your Festival Guide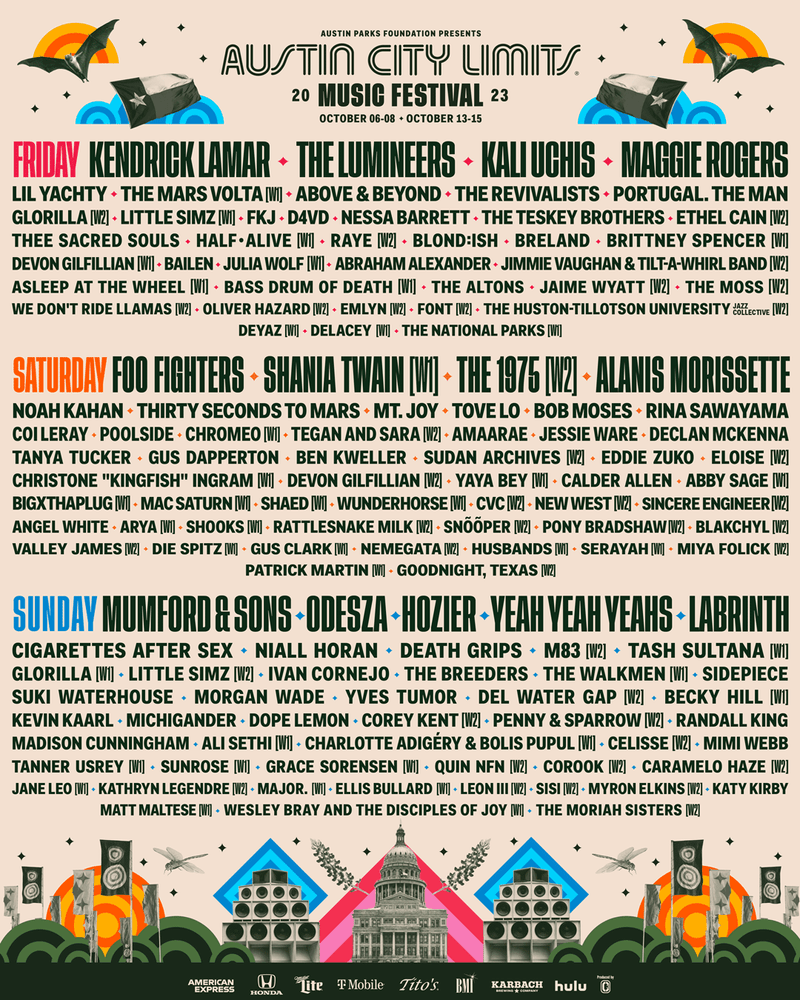 Pre-Fest Prep
Activate Your Wristband:
Activate your wristband for a seamless entry, enhanced safety, and to register for cashless payments.
For American Express® Card Members: Link your card to receive a $5 Credit on your festival wristband for any purchases at ACL Music Festival. Activate Wristband.
10 Essential ACL Fest Tips
Smart Footwear is Key: Choose sneakers suitable for uneven terrains and potential mud. Wear a pair you're okay with getting a bit dirty.

Stay Hydrated and Sun-Safe: Drink plenty of water throughout the day. And even if it's fall, sunscreen is a must. The Austin sun can be deceptive!

Plan Ahead, Yet Stay Adaptable: Draft a plan of the acts you're keen on but allow some spontaneity. You never know what might capture your interest!

Early Birds Get the Best Spots: Want a prime view? Arrive at least 30 minutes before your desired set begins.

Keep Your Lineup Handy: A screenshot of the festival lineup on your phone will save you time and battery.

Prioritize Comfort and Cleanliness: Remember, most wristbands come with access to port-o-potties. Keep hand sanitizer with you for those restroom trips.

Protect Your Valuables: Keep your phone in a front pocket or a zippered bag. The festival can get crowded, and it's best to avoid potential pickpockets.

Merchandise Sells Out Fast: If you've got your eye on festival merchandise, especially from headliner acts, make it a priority to purchase early.

Stay Connected: Signal can be spotty with so many people. Set a designated meeting spot with friends in case you get separated.

Pace Yourself: It's a marathon, not a sprint. Whether it's indulging in festival treats or diving into back-to-back shows, remember to give yourself breaks and enjoy the overall experience.
Box office, bags, safety
Box Office Information - A go-to place for all queries related to tickets and wristbands. Here.
Re-entry Policy Review the rules for re-entering the festival if you decide to leave Here.
Allowed & Prohibited Items Know what to bring and what to leave behind. Review Here.
Bag Policy Avoid any inconvenience at the gate with a bag that's not allowed. Check the policy Here.
Safety Learn about our safety rules, tips, and all our accessibility accommodations Here.
Locker & Charger Rental Rent a locker to store your personal items safely and a portable charger to stay connected throughout the festival.
Getting to the festival
No On-Site Parking
There's no parking at Zilker Park or the surrounding areas for ACL Festival attendees, but numerous transportation options are available:
Festival Shuttles
ACL Music Festival Shuttle: Board at Republic Square Park at 4th & San Antonio streets; shuttles start at Noon on Friday and 11AM on Saturday and Sunday. Drop-off is outside the Barton Springs West Festival Entrance.
Bicycles, Walking, and Dockless Mobility:
Bike Parking: Available on Stratford Drive, Toomey Road at Sterzing Street, and Azie Morton Rd. MetroBike valet is available at Barton Springs Road & Sterzing St. station.
Walking: The Ann and Roy Butler Hike-and-Bike Trail offers easy access to the festival grounds. View the interactive Trail map.
Public Transit
Cap Metro: Several bus routes operate near Zilker Park, including the MetroRapid Route 803.
Reserved Parking:
Pavemint: Reserve parking through Pavemint's smart parking solution. A portion of the proceeds benefit Austin High School's athletics and fine arts programs.
For parking questions, click here
Limited accessible parking details here
Ride Share
Instructions: Type "Austin City Limits Music Festival" or "Zilker Park" into your app for the nearest drop-off point. To leave, exit the festival and request a ride after exiting the restricted area around Zilker Park.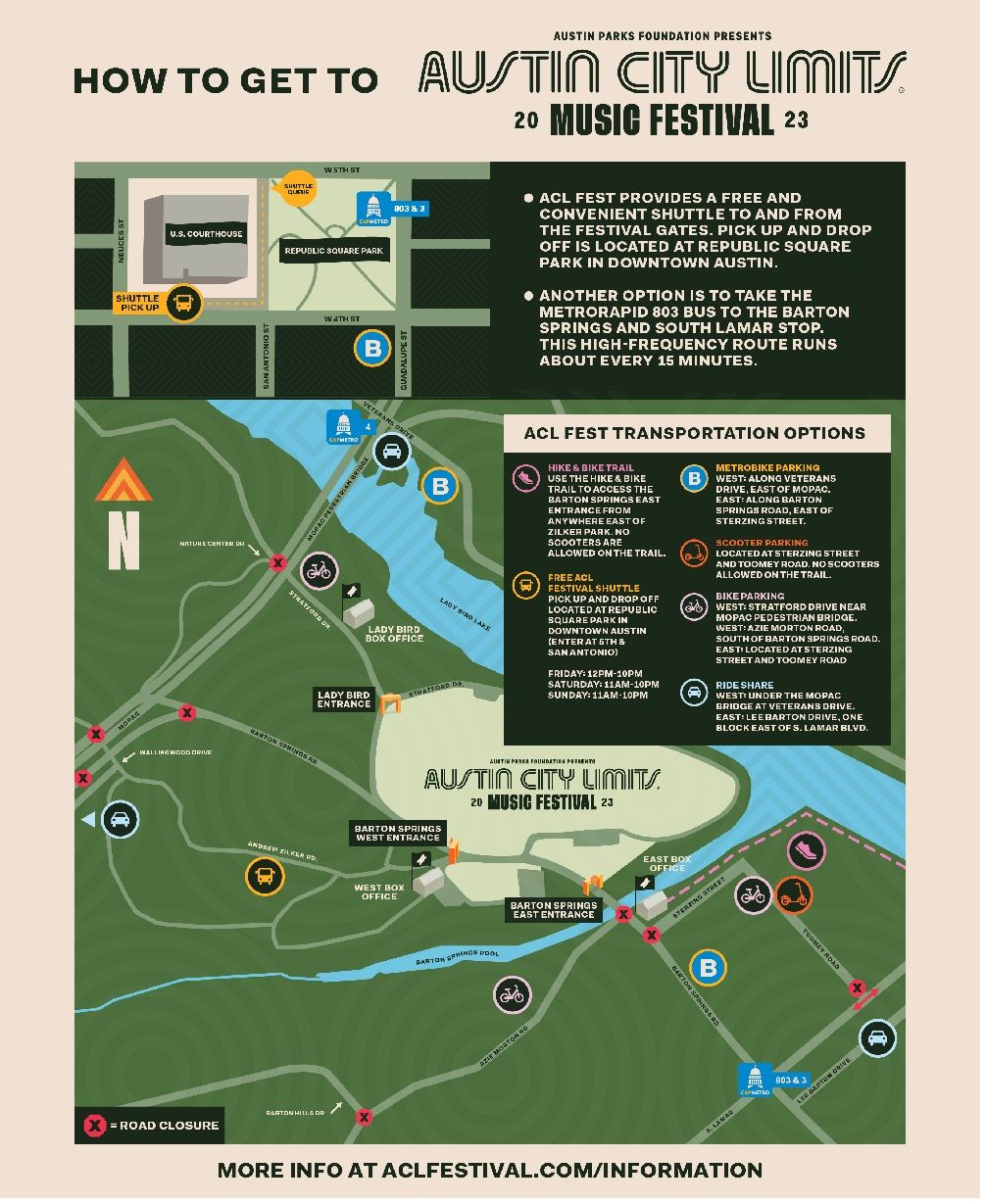 General admission
Wristband Activation
Ensures smooth festival entry and allows the addition of emergency contact information.

Enter your wristband ID and contact info to activate at the Box Office.
Festival Hours Friday: 12PM-10PM & Saturday & Sunday: 11AM-10PM
Entrances Three entrances from the north, east, and west. Approach via the pedestrian bridge under Mopac for the Lady Bird Entrance or via Barton Springs Road for other entrances.
GA+ Lounge Amenities:
Located left of the T-Mobile Stage; best accessed from the Barton Springs East entrance.

Offers a private bar with preferred pricing, a variety of seating options, premium restrooms, dedicated food options, complimentary sodas, and a water refill station.

Enjoy live streaming and lawn games in the lounge, with a dedicated GA+ Concierge available for assistance.
Dining Options
•Goodtimes Cheeseburger: Options include bacon cheeseburger ($13), chicken on a stick ($11), and fries ($5).
Tacobaby: Features include piggy smalls ($6), mahi-mahi taco ($8), chips & queso ($8), and elote ($6).
•Salvation Pizza: Offers a variety of slices and rolls ($7-$9) and gelato ($7).
•Ipanini: Delights range from $14 to $20, featuring options like the Texas Style with brisket and the Il Gabbiano with prosciutto.
Remember:
Activation is Crucial: Activate your wristband for a seamless experience.

Know Your Entrances: Choose the entrance closest to your approach.

Enjoy the Lounge: Make the most of the amenities provided in the GA+ Lounge.

Explore Dining: Dive into a variety of dining options available to you.
VIP guest information
VIP guests enjoy exclusive access to two private spaces within the festival grounds, VIP Grove East, located between the T-Mobile and American Express stages, and VIP Grove West, located between the BMI and Honda stages, each offering a range of amenities.
Amenities Include:
VIP Viewing Decks by IHG® Hotels & Resorts offering elevated, covered views of the stages, available on a first-come, first-served basis.
Shaded Lounge Areas for relaxing, watching live streams of the festival, and sports games.
Exclusive Dining Options from Chef Jason Dady, available all day, and inclusive of late-night snacks.
Complimentary Bars offering a variety of beverages.
Private, Air-Conditioned Restrooms located in the VIP Grove West.
Salon Services and Shopping Options available in the VIP Grove East.
Lockers for secure storage and Mobile Chargers to keep devices juiced.
Dining Schedule:
11AM - 1PM: Snacks

1PM - 4PM: Snacks + Entree Items

4PM - 5PM: Snacks

5PM - 8PM: Snacks + Entree Items

9PM - 10PM: Late-Night Snacks
Concierge services are available throughout the festival to assist with any inquiries or wristband issues.
platinum guest information
Transportation & Entry:
Complimentary roundtrip shuttle service from JW Marriott to the Platinum West Entrance.

Exclusive Platinum-only entrances, with golf carts available to transport guests directly to the Platinum Lounge.

Detailed information available on the Platinum Shuttle and Entrance & Policy Information Pages.
Platinum Lounge & Amenities:
Platinum Lounge is equipped with various amenities to refresh and recharge guests.

Golf Cart Shuttle service to every corner of the park.

Exclusive stage viewing areas at six stages with included beverage service.

Refer to the Platinum Lounges, Golf Cart Shuttle Information, and Viewing Article information pages for more details.
Policies for Kids:
Kids (3-8 years) require a Platinum Kids wristband for access to Platinum benefits.

Kids (9 years and above) need a Platinum wristband for entry into Platinum areas.

Kids (2 and under) enter free with a ticketed adult.

Proof of age required for entry.

Platinum Kids tickets can be purchased alongside Platinum tickets or at the festival from the Platinum Concierge.
Additional Benefits:
Access to VIP Groves and GA+ Hideaway with included dining and drinks.

A special Platinum gift and express service at the ACL Festival Store.

VIP Groves offer viewing decks with fantastic views and complimentary dining.
For extensive details on services, schedules, and menus, guests are encouraged to visit the specific information pages mentioned.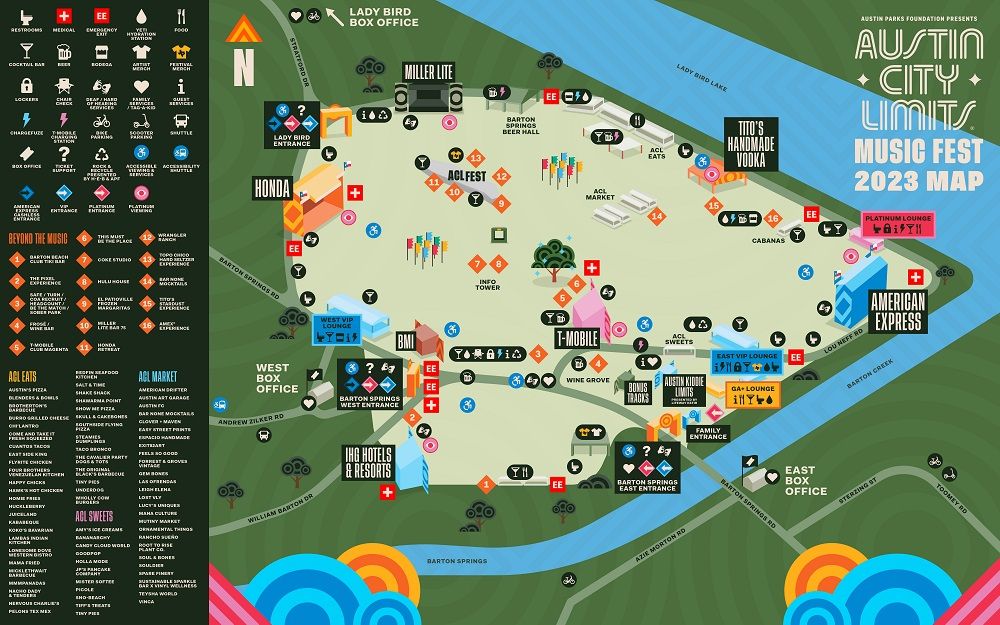 AFTER THE FESTIVAL
What is ACL Fest Nights?
The festival experience continues away from Zilker Park during ACL Fest Nights! From Oct. 9 through Oct. 14, music lovers can check out artists at different music venues around Austin.
See the full 2023 ACL Fest Nights lineup.