Bars Close, Restaurants Run at 50% Capacity as COVID-19 Rises in Texas
Latest Update on COVID-19 in Travis County
June 26, 2020
Governor Greg Abbott today issued an executive order limiting certain businesses and services as part of the state's effort to contain the spread of COVID-19. This decision comes as the number of people testing positive for COVID-19 and the number of hospitalizations have increased and the positivity rate in Texas increased above 10%, which the Governor previously stated would lead to further preventative action. The targeted, measured directives in the executive order are based on links between certain types of businesses and services and the recent rise in positive cases throughout the state.
Friday's executive order includes the following:
All bars and similar establishments that receive more than 51% of their gross receipts from the sale of alcoholic beverages are required to close at 12:00 PM today. These businesses may remain open for delivery and take-out, including for alcoholic beverages, as authorized by the Texas Alcoholic Beverage Commission.
Restaurants may remain open for dine-in service, but at a capacity not to exceed 50% of total listed indoor occupancy, beginning Monday, June 29, 2020.
Rafting and tubing businesses must close.
Outdoor gatherings of 100 or more people must be approved by local governments, with certain exceptions.
* What you need to know about order suspending elective surgeries - click here


For full updates on current cases, recoveries, hospitalizations and deaths - click here
PREVIOUS UPDATE
June 15, 2020
Austin Extends Stay-at-Home until August 15th
In a press conference today, Mayor Steve Adler announced the extension of the Stay Home – Work Safe order for Austin/Travis County through August 15, calling on individuals to help keep each other and our community safe.
The New City of Austin Order in effect as of today states:
Social gatherings of up to 10 people are to be avoided

Socializing or attending outdoor events in groups of more than 10 individuals outside of the same household is prohibited

Continued recommendation for businesses to keep "activity logs" to help APH track and trace potential cases

Reopened businesses and operations under the Governor's Executive Orders are strongly encouraged to operate at a lower capacity than otherwise permitted and to provide services remotely or in a manner maximizing social distancing

Businesses are encouraged to do everything they can to require social distancing and face masking behaviors while the City remains in Stage 4

Individuals are to continue maintaining 6 feet social distancing and hand washing

Individuals are asked to follow recommendations according to Austin Public Health's Risk-Based Guidelines Chart below.
Stay up to date with Travis County COVID-19 Numbers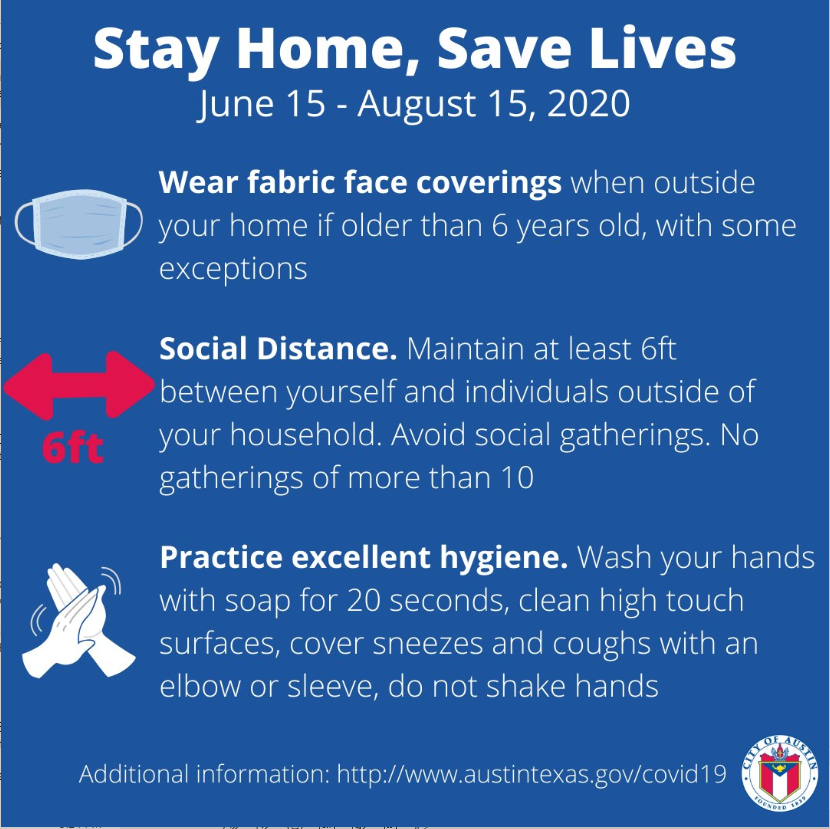 Austin-Travis County Health Authority Dr. Mark Escott said the greater Austin area saw 799 new confirmed cases over the past week, representing a 90% increase over the week before. At the same time the doubling rate of the virus, or the number of days it will take the number of infections to increase two-fold, dropped from 44 to 25.5 days.
For COVID-19 Testing, check out these Drive-thru Testing Centers
Austin Mayor Steve Adler announced on June 15 city orders implementing Stage 4 restriction...
Thinking about Buying?
Use our home loan calculator to estimate your total mortgage payment, including taxes and insurance.
Mortgage Calculator