Best NYE Parties in Austin
Dance and dazzle your way into the next decade with any of these fabulous NYE parties!
"We're transcending to New York City in the 70's. Where lavish dress and late nights on the dance floor were the tone of the era. This is the time to go all out. Show us what you've got."
An awakening. A revelation. Because in the end, breakfast can wait. This is the night you've been longing for.
Foster ATX
UNTITLED | A NEW YEARS EVE EXPERIENCE
from $120.00 & up
TUESDAY, DECEMBER 31
9:30PM — 1:00AM
800 CONGRESS
What does that include?
Full Open Bar (whiskey, vodka, tequila, mezcal, sotol, beer, wine)
Hors D'oeuvres
Live Band
4 Bars
DJ Set
Champagne Toast
Late Night Breakfast Bar
Professional Dancers
Portraits
Endless Surprises
Dancing
A Drumline
"It's the end of the decade and we're blowing it out Bowie Style!"
"The sun machine is coming down, and we're gonna have a party."
Aviary Kitchen & Wine
STARDUST | A VERY BOWIE NYE
$75 Pre-Sale Tickets | $90 at the door
TUESDAY, DECEMBER 31
9:00PM — 1:30AM
2110 South Lamar Boulevard Austin, TX 78704
Moonage Daydream Decadence like . . .
Caviar
Truffles
Oyster Shooters
Gold Infused Fried Chicken
Discounted Champagne bottles & more!
NYE 1959! IN DREAMS
~~THE BEST JAMS OF THE THE YEAR 1959!!!~~
"Songs of Yesterday by Bands of Today!"
Hotel Vegas & The Volstead
NYE 1959 | Yesterdays Songs by Bands Today
$40-$50
TUESDAY, DECEMBER 31
7:00PM — 2:00 AM
1500 & 1502 E 6th St, Austin, Texas 78702
🌟 FEATURING THE MUSIC OF 🌟
BIG BOPPER BILLY • HALEY AND THE COMETS • BUDDY HOLLY • CHET BAKER • ELVIS PRESLEY • GENE VINCENT • HOWLIN WOLF • JOHNNY CASH • KITTY WELLS • LINK WRAY • PATSY CLINE • PEGGY LEE • RICHIE VALENS • ROY ORBISON • SAM COOKE • THE EVERLY BROTHERS • THE RONETTES
Roaring 20's NYE Party
"Ring in 2020 roaring in style while indulging in classic cocktails first crafted in the 1920s"
"Celebrating the 100th Anniversary of one of our favorite decades"
The Roosevelt Room
Roaring 20's New Year's Eve Party
$50-$1,200
TUESDAY, DECEMBER 31
7:00PM — 2:00 AM
307 West 5th Street Unit B Austin, TX 78701
COCKTAIL MENU
For one night only, we'll be featuring a special cocktail menu with 10 drinks created in the 1920s & pre-Prohibition era, including:
Vodka Southside - Absolut Elyx Vodka, Mint, Lemon juice, Sweetgrass
French 75 - Bombay Sapphire Gin, Lemon juice, Sugar, Brut Sparkling Cava, Lemon peel
Clover Club - Citadelle Dry Gin, Dolin Dry Vermouth, Raspberry syrup, Lemon juice, Lychee, Egg White
Margarita - El Tesoro Reposado Tequila, Lime juice, RR Triple Sec, Agave syrup?- salt or no salt?
Mojito - Plantation 3-Star White Rum, Mint, Lime juice, Sugar, Soda water, Powdered Sugar
Boulevardier - Evan Williams Bonded Bourbon, RR Sweet Vermouth, Campari, Salt tincture, Orange peel
Old Fashioned - Maker's Mark Bourbon, Demerara syrup, Angostura bitters, Orange peel
Bobby Burns - Johnnie Walker Black Label, Punt e Mes Vermouth, Bénédictine, Abbott's bitters, Lemon peel
Grasshopper - Green Crème de Menthe, White Crème de Cacao, Fernet Branca Menta, Cream, Mint & grated Nutmeg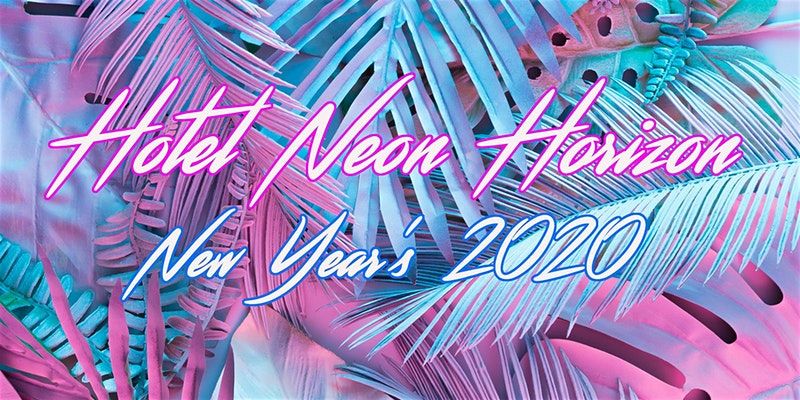 Hotel Neon Horizon
"Justine's Vaporwave nod to 80s and 90s ephemera, celebrating the seedy poetic-ism of a hotel bar and the libidinous potential of a room key."
"That luminous part of you that exists beyond personality–your soul, if you will–is as bright and shining as any that has ever been.... "– George Saunders
Justine's
Hotel Neon Horizon
$150
TUESDAY, DECEMBER 31
8:00PM — 2:00 AM
4710 East 5th Street Austin, TX 78702
Los Angeles rock star designer Emily Andelin Hughes is creating a postmodern dreamland draped in palm trees, aglow in neon, where history is malleable, the future is bright, and guests are tantalized by a series of hotel vignettes – a hot tub, a lounge, a lovers' suite – guaranteeing a night to remember.
All tickets are $150 and include:
Entry, all entertainment, reception-style dinner, (not table service), late-night food, champagne at midnight.
***Drinks are not included and must be purchased, cash/credit***